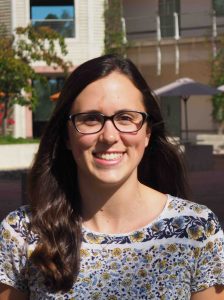 PhD student
Room: EBUII 564
Email: jjlawren@eng.ucsd.edu
Education
Jenna Lawrence completed a 5-year B.S./M.S. program in Chemical Engineering at the University of California, San Diego in 2017. She is currently a Ph.D. student in the Mechanical Engineering department under the supervision of Antonio Sánchez at the University of California, San Diego.
Research interests
Jenna's research is focused on the theoretical fluid dynamics of cerebrospinal fluid motion in the spinal canal. She hopes to apply the results to intrathecal drug delivery.
Conference contributions
70th Annual American Physical Society Division of Fluid Dynamics, November 2017, Denver, Colorado
19th Annual UC Systemwide Bioengineering Symposium, June 2018, Riverside, California. Received the award for Computational Biology – Oral.